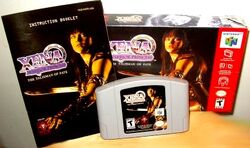 Released on December 17, 1999 by Titus Software for the Nintendo 64 game system, The Talisman of Fate allows the player to be one of 10 characters, possessing their own unique weapons, attitudes and fighting techniques. Exclusive multi-player feature includes a roster mode, plus team and single battles.
Ad blocker interference detected!
Wikia is a free-to-use site that makes money from advertising. We have a modified experience for viewers using ad blockers

Wikia is not accessible if you've made further modifications. Remove the custom ad blocker rule(s) and the page will load as expected.