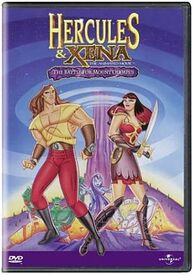 Hercules and Xena - The Animated Movie: The Battle for Mount Olympus is a 1998 animated action adventure direct-to-video film starring the voices of Kevin Sorbo, Lucy Lawless, Michael Hurst, Renée O'Connor and Kevin Smith, all reprising their roles from Hercules: The Legendary Journeys and Xena: Warrior Princess. It was directed by Lynne Naylor and written by John Loy.
Ad blocker interference detected!
Wikia is a free-to-use site that makes money from advertising. We have a modified experience for viewers using ad blockers

Wikia is not accessible if you've made further modifications. Remove the custom ad blocker rule(s) and the page will load as expected.