Mount Olympus is the home of the Greek gods. Any of the Greek gods can teleport there, and besides climbing or flying to the top, there isn't any other way to get there. It is the tallest mountain in Greece between Thessaly and Macedonia.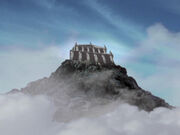 Palace of Olympus
Edit
The palace of the gods is on the tip of Olympus. What was shown inside were foggy halls and throne rooms that look out onto the Earth. All of the gods, not just the 12 main Olympians are allowed into the castle. Even though Olympus is their main symbol of power, the gods stay at other places like their temples on Earth, the Underworld, the sea, or whatever place is sacred to them. Zeus and Hera are the leaders of Olympus, but after their death Athena took charge.
Olympus During the Twilight
Edit
Olympus was mostly shown during the Twilight of the gods. It was first seen in God Fearing Child, when Zeus was looking out onto the Earth. It was last seen in You Are There when a camera man interviewed Ares after he got his godhood back. Most of Athena's planning during the Twilight happened on Olympus, and in Looking Death in the Eye, all of the gods, some never seen before, are walking around a throne room. The final battle of the Twilight is also in Olympus where Xena fights Athena.
If a god is somehow killed then Olympus shakes. After Xena killed most of the gods, and Ares and Aphrodite became mortals, Olympus was left almost empty. Then Xena gave Ares and Aphrodite golden apples from Valhalla which made them gods again, so they went back up to Olympus. What happened to the rest of the gods that Xena didn't kill besides Ares and Aphordite is unknown.